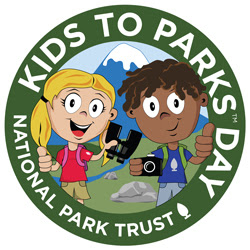 http://blog.scoutingmagazine.org/wp-content/uploads/sites/2/2014/12/Kids-to-Parks-Day-logo.jpg" alt="Kids-to-Parks-Day-logo" class="CToWUd" />In Scouting, we'll take any excuse to get outside and explore neighborhood parks. There's a wealth of science, history, nature and adventure right around the corner or just across town.
That's why the Boy Scouts of America is encouraging you to mark your Scout calendars for the next Kids to Parks Day: Saturday, May 16, 2015.
The BSA — along with the National Park Service, NFL Players Association, American Hiking Society and others — is a prominent collaborator on Kids to Parks Day, organized by National Park Trust.
Getting involved in "America's national day of play" is easy. Just head to a park with your Scouts, and have fun! You can even register your event on the National Park Trust website to be a part of this massive movement.
And I do mean massive. Some 447,208 people celebrated the 2014 edition of this event, which I told you about earlier this year.
To be a part of the 2015 Kids to Parks Day, visit kidstoparks.org.